Madjax Tsunami BlackLiquid Silver with Orange Wave Club Car Precedent Front Seat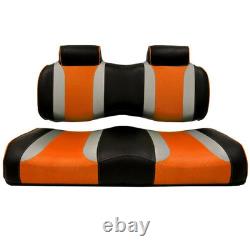 Welcome to Golf Cart Savings! Û_Ìã̼Liquid Silver w/ Orange Wave Club Car Pre. Just contact our support team. Checkout safely with peace of mind. Madjax Tsunami Black-Liquid Silver w/ Orange Wave Club Car Precedent Front Seat Cushions.
Fits the Club Car Precedent 2004-Up. Made of durable UV-stabilized marine grade vinyl to prevent fading. Resists mildew, fungus and bacteria. Your cart will turn heads with the flashy, new look and certainly be the most comfortable! Golf Cart Savings was launched for Golf Cart owners who either need parts to repair their cart or really want to set themselves apart with a customized cart.
The company is focused on providing industry-leading customer service, while currently offering more than 6,000 Golf Cart Savings parts and accessories online at deeply discounted prices. The site carries brand-specific parts from major golf cart manufacturers, such as EZGO, Club Car, and Yamaha. Golf Cart Savings also has thousands of replacement parts and accessories that will change the appearance of your cart or upgrade the stock performance.
We are a Brick and Mortar Golf Cart Shop with knowledgeable technicians, not just some drop shipper sitting in an office. For all other products if the return is due to a product issue or damage Golf Cart Savings will require photos to be sent and we will take full responsibility for these errors.
At Golf Cart Savings, we are committed to providing our customers with the best possible on-line shopping experience. This includes a commitment to excellent customer service, even after your order has been delivered. WHAT OUR CUSTOMERS ARE SAYING ABOUT US. Yamaha G29/Drive Golf Cart Carbon Fiber Dashboard Insert w/ Lockable Compartment.
Club Car Precedent Golf Cart Rear Top Strut (Struts for OEM Roof Tops). Golf Cart 5 Panel Mirror for E-Z-GO Club Car Yamaha by Franklin.